APPLYING FOR YOUR ​NEW CARTE DE SEJOUR
Created: Wednesday, 14 October 2020
Written by Christophe GUAY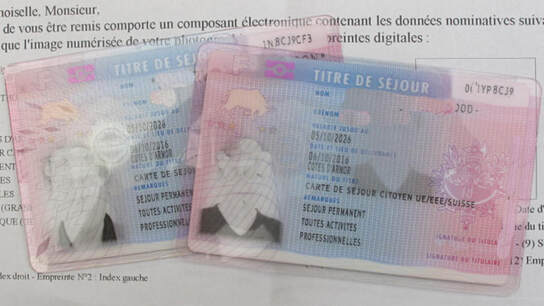 Every British citizen living in France has to apply for a new residence status and a new carte de séjour under the Withdrawal Agreement (WA). If you have adult family members they also have to apply.
This applies whether you have a current carte de séjour or whether you don't have a carte de séjour at all.
You will have until 30 June 2021 to do this. This is a very important deadline so please note it in your diaries - if you don't make your application by this date you may not be covered by the WA at all.
​
Applications must be made on the new online application platform launched on 19 October 2020. You'll need to complete the form, and upload the documents that you're asked for according to your situation. Your application form and documents will be passed to your local préfecture, which will deal with your application. As your new card will be biometric you'll be asked to visit your préfecture for fingerprinting.
Your new card will state specifically that is has been issued under the WA and you'll be able to use this as evidence that you're covered by it.

​
All cards will be free of charge.
The French government will be publishing a decree that will set out in detail the process and the conditions for being granted a new residence status. It was intended that the decree would be published before the application platform opened but Covid-related delays have prevented this from happening; it will now be published later, we hope by the end of October.
This means that if you apply on the new platform before the decree is published you are doing so slightly blind. If you have been in France for more than 5 years this may not matter, but if you have been in France for less than 5 years and you think your situation may be borderline, you may want to delay your application until the decree is out.
Content courtesy of francerights.org FULLER INFORMATION CLICK HERE